As promised, here is my "little address book"! Since I've posted pictures of My Place, some readers have been asking me where I got certain items, so, below, you should find the answers to your questions regarding the furniture and accessories showing on the photos. Don't hesitate to contact me if you want more info!*
Also, in case you've missed it, my place was featured on Apartment Therapy's website last week. Very, very exciting! Thanks everyone for the lovely comments!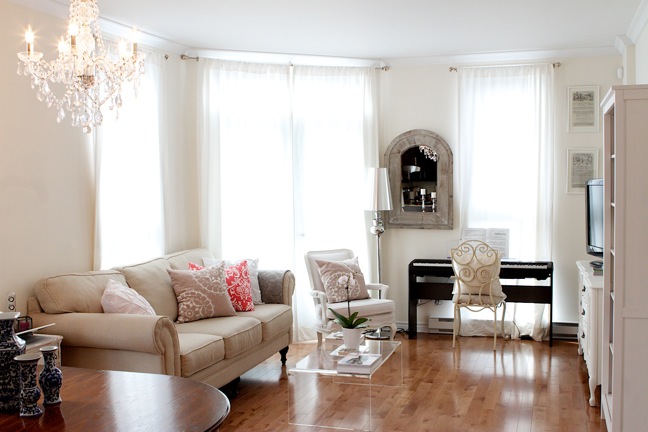 Curtains: Custom-made by Tissus Hajaly
Crystal chandelier: Atlas Lighting
Sofa: Prillo
Pillows: White ones & white and coral damasked: Etsy / Light pink and white: Dcovia / beige satin (on piano chair): Maison Simons
Whitened wood mirror, lamp and acrylic coffee table: Dcovia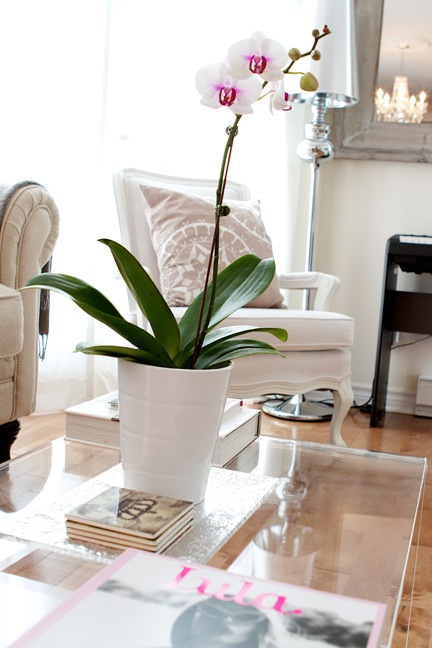 Orchid and pot: Ikea
Silver platter and coasters: Dcovia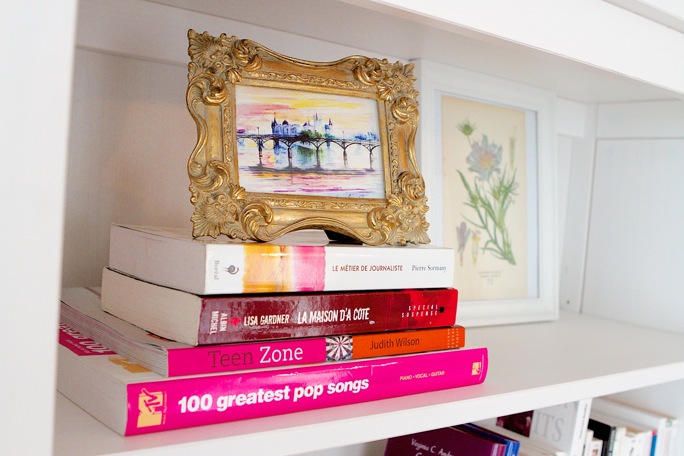 Bookcase and white frame: Ikea
Gold picture frame: Dcovia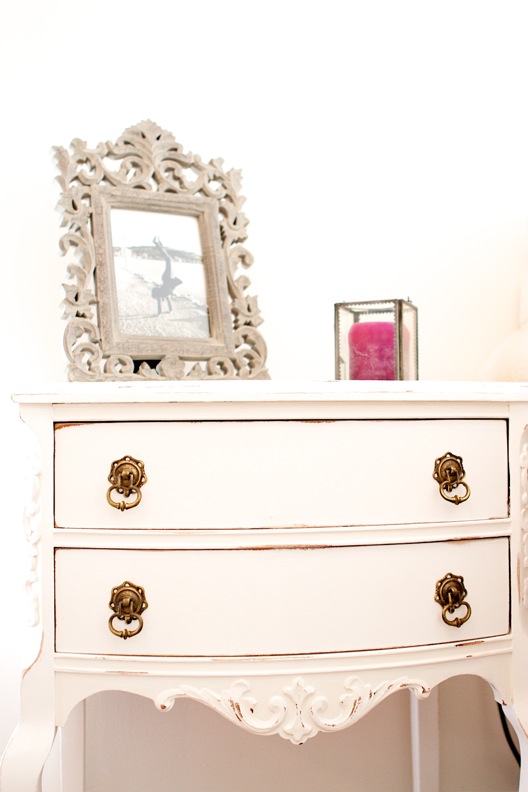 Picture frame, candle holder and purple candle: Dcovia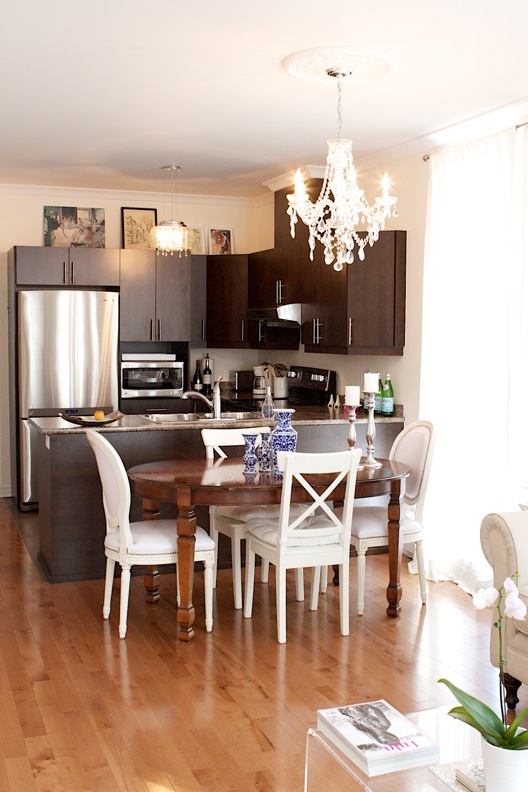 White Louis dining chairs (wood and leather): Le Living
White wooden dining chairs and cushions: Ikea
Silver chandeliers and white candles: Dcovia
Blue and white porcelain vases: Bombay
Kitchen glass chandelier: Rona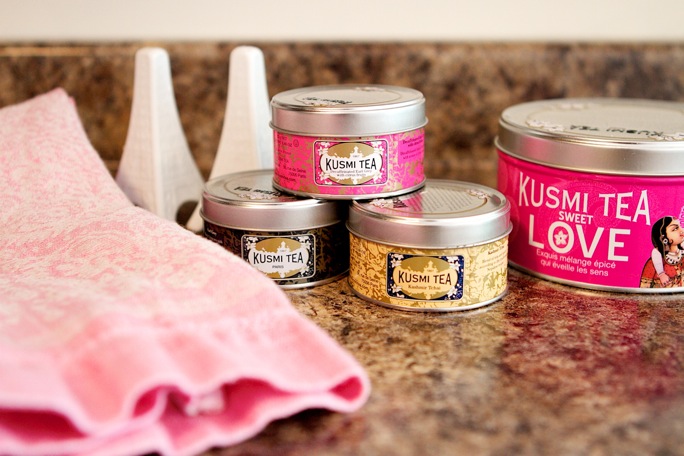 Dishcloth: Qui dort dîne
Eiffel tower salt and pepper shakers: Zone
Tea: Kusmi tea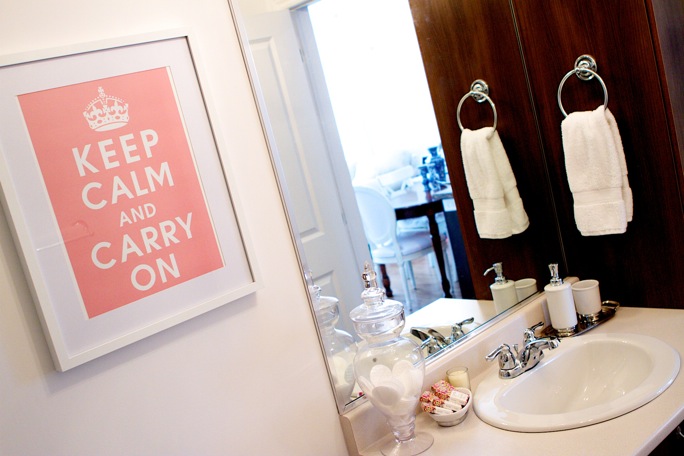 "Keep calm and carry on" poster: Etsy
White frame: Ikea
Glass vase: Home Sense
Lucia guest soaps: Zone
Glass and soap dispenser: Linen Chest
Mirror: Marie Art Deco
Iron bed: Sears
White bed sheets: Ikea
Grey bed throw and pillow covers, damasked white and grey pillow and round side table: Dcovia
Crystal chandelier: Atlas Lighting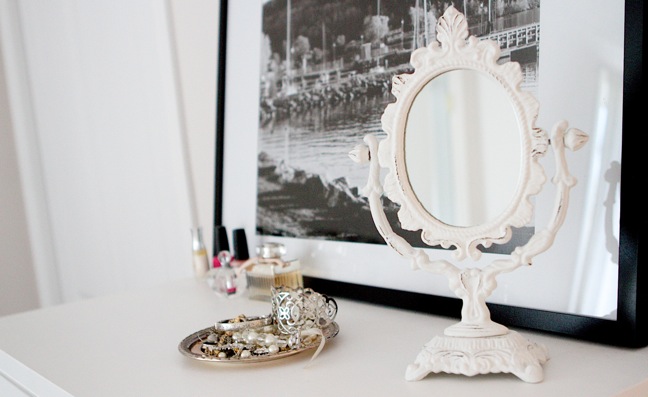 Victorian mirror: Dcovia
Black picture frame: Ikea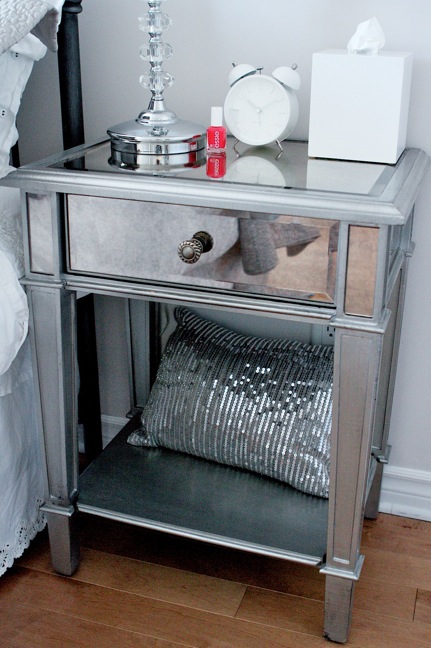 Nightstand: Pier 1 Imports
Alarm clock: Dcovia
Lamp: Home Sense
Kleenex box cover: West elm
Pillow: Maison Simons
*Note: The items that were not mentioned (white buffet, white wooden side table, beige piano chair, white side chair, dining table, pictures, art, little silver plates and other unmentioned accessories) were not bought at stores. Some was passed down to me by family, some found at antique fairs. The white antique pieces of furniture are the result of transformations I made (for the white side chair, the painting and reupholstering was done by a professional). All framed photographs were taken by me.

Source: All images by Vanessa Leclair for Soft & Chic
Laisser un commentaire - Leave a Reply